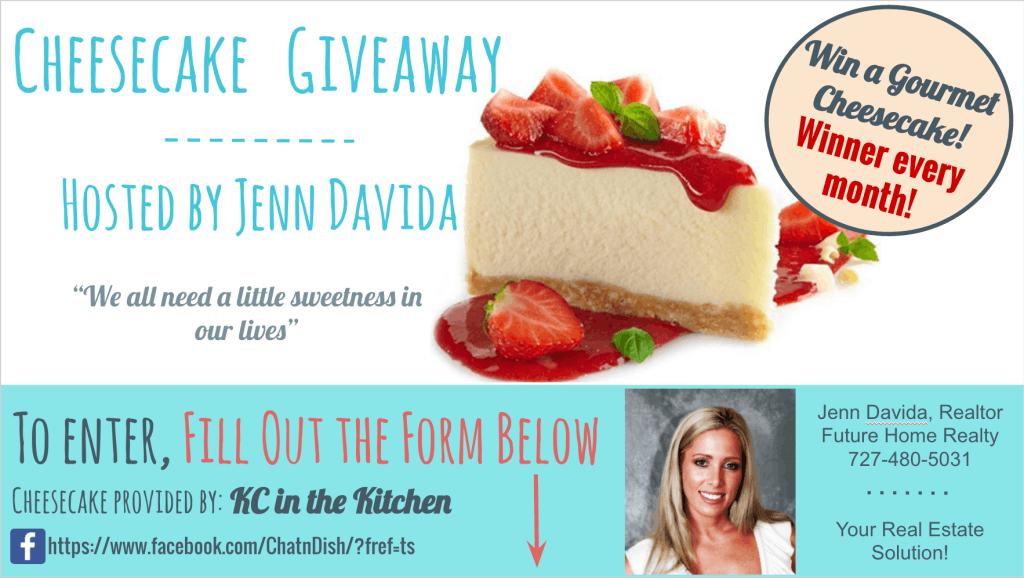 I strive to exceed your expectations. Work is a big part of my life and it is very fulfilling. But, I am also passionate about sharing great food. Something as simple as a sweet treat on a hectic day always seems to take the edge off. I wanted to share a decadent dessert with you each month and bring a smile to your face. Let your friends and family know about the contest! You might have a better chance of winning it for your home or office.
These gourmet, homemade delights are baked by our very own local and famous Chef, KC Quaretti.
Chef KC has been selected as one of 30 Best Home Cooks in the United States on Master Chef, Season 2. She has her own video cooking show called Chat n Dish which was featured on the Food Channel. Her recipes have been featured in Rachael Ray, Taste of Home, Edible Sarasota and Paul Dean Magazines. WOW- you are going to love her desserts.
Check out her website: www.kcinthekitchen.com
Find her on Face Book: Chat 'n Dish
Prize Rules:
One entry allowed per person. All entries must be in by last day of each month. One winner will be picked on the 1st day of each following month. Winner will be notified by email and/or phone to claim prize. Prize must be picked up or delivered the same month winner was selected. ***
DISCLAIMER: *** Delivery restrictions may apply. Appointment only for prize pick up. Winner forfeits prize if not picked up on scheduled date or not present upon delivery.
Past Winners: